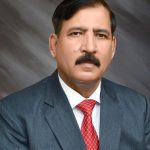 Mirpur University of Science and Technology (MUST), Mirpur, Azad Jammu and Kashmir (AJK) is a prime seat of learning for the students of not only the State of Azad Jammu and Kashmir but also for all interested applicants from all over Pakistan and abroad. MUST was established with a vision to produce competent professionals who would be instrumental in the development of a prosperous society.
MUST has an excellent teaching, learning and assessment environment and is continuously improving its standards of quality pertaining to cognitive, affective and psychomotor domains of Bloom's Taxonomy. Our academics continue to undertake meaningful R&D through engagement of highly qualified & experienced faculty, use of state-of-the-art labs and teaching curriculum of international standards. The University offers array of disciplines ranging from engineering, technology, natural & applied sciences, medical technology, animal sciences, business studies and social sciences.
MUST was established in August 2008 and within short span of 13 years, it has added a series of new programs at undergraduate and postgraduate levels in six faculties (i.e. Faculty of Engineering and Technology, Faculty of Natural & Applied Sciences, Faculty of Social Sciences & Humanities, Faculty of MUST Business School, Faculty of Health & Medical Sciences, and Faculty of Veterinary & Animal Sciences). Faculties and Departments are located in three districts of the State of Azad Jammu & Kashmir. Five MUST campuses are commonly known as City Campus (Mirpur), Home Economics Campus (Mirpur), Jarikas Campus (Mirpur), Bhimber Campus (Bhimber) and Pallandri Campus (Pallandri). Majority of the programs of MUST are being run in its three Campuses at Mirpur which is the most modern and scenic city of AJK and is only 15 minutes drive from Mangla.
All Engineering Programs being offered at MUST are accredited by Pakistan Engineering Council under OBE System of Education (Washington Accord). Similarly, all other programs are also accredited by the relevant Councils and Professional Bodies. MUST alumni is employed all over the world and is greatly contributing for the socio-economic uplift of Pakistan in general and AJK State in particular.
MUST has conducive academic environment and its students remain fully committed in acquiring professional skills in order to meet new challenges in different emerging fields. Continuously updated curriculum is taught by the competent and qualified faculty members and quality standards of international level are being ensured in each faculty. Research facilities and laboratories remain open for students and faculty members for carrying out R&D work. Resultantly, our faculty members are publishing their research papers in the highly reputed journals within the country and abroad. MUST has very strong linkages with the other universities (both at national and international level) and industrial organizations for undertaking useful projects, providing solutions to the problems, and placement of students for internships and industrial training.
I can assure you that MUST is a right place for your professional career in the field of your choice. All the faculty members and administrative officers are available at your service so that your stay at MUST remains very comfortable and memorable during the completion of your degree program.
Prof. Dr. Muhammad Younus Javed, SI(M)
Vice Chancellor
28th June 2021