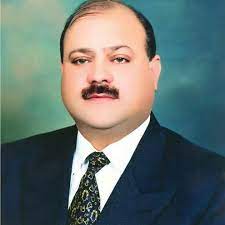 It gives me immense pleasure to extend message to the Alumni of MUST that the Mirpur University of Science and Technology (MUST) is a gift for us all. For me, it is dream coming true and nothing gives me more pride and comfort than seeing MUST come into being and alumni putting effort to make must a reference.
I hope that the university Alumni, parents and community will contribute to take this nascent university to the highest international standards and would like to see MUST emerge as an internationally recognized institution of higher education. MUST also aims to see Alumni, overseas Kashmiris, particularly those settled in the UK, an active participative element to raise the MUST to a more contributive level. This is meant to strengthen further the bond between the Alumni, people of Kashmir and the families residing in the UK, other European countries and rest of the globe. I urge the university to coordinate with Alumni for useful projects, which can provide students an opportunity for sharing experience and ideas, keeping themselves abreast of the latest developments taking place in their respective fields.
MUST Alumni can offer proposals viable for implementation of projects in the betterment of community. Help in growing the university from strenght to strenght in coming years. A strong platform for the development is no other than a vibrant and active Alumni. The universities are led and recognized by their Alumni.
I invite Alumni to contribute in every possible way in the development of the university. I also advise the university administration to devise a mechanism for involving the Alumni in the development of the university.
President of the State of Azad Jammu & Kashmir
Barrister Sultan Mahmood Chaudhry
Chancellor