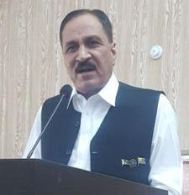 Alumni- an asset of a university… have a potential to provide a strong leverage in the development of university. The Alumni of MUST is also a dynamic and well versed in connection with the art of looking back to extend helping hand to mother university. I would like to inform the Alumni that i will spare no effort to come up the level for the development of the university. I am already working to make certain the efficient and transparent administration. Businesses and procedures of the University are institutionalized and functions carried out in accordance with the University Act through the prescribed statutes, rules and regulations.
Alumni needs to visit the University to provide input for the advancement in the infrastructure, acadmic activities, over all environment and characterizing the learning. I assure the Alumni that student at MUST is and will ever be trented as top stackholder. The coordinated effort is a need of the hour in connected with the provision of opportunities to the young seedlings of the nation.
Alumni is a viable potential to be explored and utilized by the Alumni itself, the University wants to pave the way forward with the help of Alumni for the upgradation and development of acadmic environment.
I request the Alumni at Mirpur, UK and all over the globe to please own the University and come up for its development, so that dreams of a reputed seat of higher learning at Mirpur may come true. The Alumni may contribute in the development of the University through its products. I am confident that we will be able to develop this University on a fast track in consonance with the needs and aspirations of the people of the State.
I have extended welcome to Alumni twice at the MUST and wish them to step forward for the University and help guiding us for the more brilliant future of MUST and top stackholder, the students. May Allah bless you with the virtue of caring others and serving the humanity, the society, the nation and of course your family.
(Prof. Dr. Habib-ur-Rehman, FCSP)
Sitara-i-Imtiaz
Vice Chancellor